Welcome to Flat Cats - Window protection for Cats
Cats are inquisitive creatures and we all know that an open window is an open invitation to take a perilous trip out onto the window ledge.

Although they have excellent balance, cats do fall from windows, often suffering terrible injuries as a result. In the summer cat owners are faced with a dilemma - open the windows and risk a fall or keep the windows closed and suffer the resulting high temperatures.
If, when you have watched the video, you have any questions, just give me a call on 01673 844125 or email info@flat-cats.co.uk Dominic Parker.
Also see our new slide show below with explanations of each slide below.
| | |
| --- | --- |
| | Flat Cats provide an economical and effective solution - protection for your cats from falling out of open windows and offering insect protection as an added advantage. |
| | |
| --- | --- |
| | Flat Cats cover your window opening with a specially sized, easy to fit strong pvc coated mesh. Fitted in seconds, it lets in air and keeps your cats in. No drilling of window frames required! |

Interested in buying a Flat Cat?

Click here to find out more about Flat Cats window protection for cats..

Click here to read the history of Flat Cats and how they came to be developed.

Click here to watch a Flat Cat being fitted
Standard and Custom Made Flat Cats are available for order now:
Click Here - To order Standard Flat Cats Online
Click Here - To order Custom Flat Cats online
Click Here - To order Standard Flat Cats by Mail Order
Click Here - To Order Custom Flat Cats by Mail Order
Click Here - To order Flat Cats Essentials (Extra Window Fixings) online
Click Here - To order Flat Cats essentials (Extra Window Fixings) by Mail Order
We accept all major credit and debit cards through our payment provider PayPal. You can be sure that your card details are never passed to Flat Cats as all payments are made through the secure PayPal system.

Customer Comments: Updated 16th April 2014
Hi Dominic,

A couple of pics (though not great) of Lokie and Keeta looking out the window. Was so funny watching their reactions as they could sit and smell outside and listen to all going on – they loved it!

Many thanks – and it was fantastic to have all the windows open yesterday, and enjoy the breeze and not have to worry about my cats!


CN. Bromley, Kent
Hi Dominic, Just wanted to thank you for your excellent customer service and speed of delivery. The product is great and the cats love it. I've attached a few pictures for you. As you can see they look great!!
SJ. Ramsgate
I thought the least I could do is send you a picture taken a few weeks ago of our two cats who are now just about 2 1/2 alive and kicking thanks in part to Flat Cats. They are brother and sister the large one, on the right the boy is London and the little girl is Paris.
Please feel free to use there picture and my thanks on your web page.


JO. London
This is just a big thanks for my FLAT CAT screen,
I have fitted it today with no messing about trying to fix screws in as the fixing's are just right,
also I would like to thank the person who I spoke to regarding my custom FLAT CAT he was a huge help and very pleasant to talk to and very very helpful in understanding the query that I had, as for the screen I can honestly say I feel much better knowing that I can have my windows open without having to keep my cat out of the living room just in case she jumps through the window, now It gives us a more secure feeling knowing she is safe. thanks for all your help and I can guarantee I WILL be ordering another one very soon.
MS. Birmingham, West Midlands
Just wanted to say thank you for my Flat Cats screen which I fitted this morning. It is a bright, warm, sunny day and I can now have a window open. Very easy to fit and very effective! I shall be sending you an order for another window, when, of course, I will be a normal customer! Thank you.... such a simple idea and it works very well!
MS. Ringmer, East Sussex
Our Flat cat screens arrived today and they are wonderful!! so easy to fit, great quality,great service!! will tell all my family n friends with cats!! May order some more in the future! thanks again Sam :)
SC. Salford
Hi Dominic, Just a quick email to say order received today - its perfect! I'll be ordering some more once i've redecorated! Thanks again,
SW. East Hanningfield, Essex
Dear Dominic, Flat cats arrived, fitted and magic (again). Thank you very much for your prompt and efficient service. We'll certainly be recommending flat cats and may even be back to you again.
VH. Lytham St Annes, Lancashire
Hi Dominic, Just wanted to say thank you once again. I finally got some time to put the flat cat's on the windows! It's gotten really warm the last few days and my flat has felt like a sauna without the windows open and I'm way too paranoid to open them at all without the flat cat's up after Sophie's accident.

Also, Sophie's accident turned out to be worse than the vet initially thought. When she went to the vets again on the Monday afternoon she was limping a lot on one of her front legs and they did an xray and found out she'd broken her leg and had to have surgery to put pins in it. When we went to the vets again today for a bandage change he told me that while the bandage was off she was putting pressure on her leg and trying to walk using it so he's fairly certain she's recovering well. She's also had to have cage rest since her surgery which she's absolutely hating, but it's for the best and stops her jumping around and delaying the healing. I'm so thankful I have pet insurance because the vet said without the surgery it's unlikely the bone would fuse back together correctly and the leg would need to be amputated, and I'd feel even more guilty than I already do if she had to have the leg removed. It's already come close to £2000 for the treatment and without pet insurance I'd not be able to afford that..

Right now Chloe is sitting on the window ledge looking out of the window and enjoying the fresh air, and it's also so nice for me to be able to cool down my flat a little!

Thank you very much!
SD. Birmingham
Thanks for the window mesh! They fit perfectly! It was lovely to see the cats by the window feeling the breeze and hearing all the sounds.
EM. Stratford-Upon-Avon
Good Morning Dominic, The nets arrived last weeks and took no time at all to set up over the weekend. Thank you for your time and help over the phone.
LC. London
Dear Flat Cats, I just wanted to say thank you for the excellent service and quick delivery of our custom flat cat! I ordered it on Monday and it arrived today!(Wednesday!) It fits perfectly and now Oskar can enjoy the fresh air whilst I can enjoy having the kitchen window open. What a fabulous product - I wish I'd thought of it myself! Thank you once again -
VG. Haslingden Lancashire
All arrived yesterday (01 Mar) safe and sound.

Many thanks for your help.

Pepper likes the box too.


TV. Hove
Hi Dominic,
I just wanted to say thank you. I received a card on Friday but haven't had chance to collect them from the post office yet, which I'll do tomorrow.

Today there was a bit of an accident with Sophie. I had a window open slightly and forgot to close it when I left the room. I live in a house converted to flats and it's like a converted attic and I couldn't find where Sophie was and saw the window wider open which must have been either the wind or pushed open by her, and she must have either jumped or fallen from the roof. I rushed outside to find her in the garden very scared and when I brought her back in and she was limping a lot so I took her to an emergency vet. Nothing is broken though luckily but she's a little sore and shaken up by the whole experience.

I'm so glad you invented flat cats so nothing like this will ever happen to my cat's again. I spent the whole time from when it happened until the vet checked her over in tears.

You said in your video that you wondered if you were just being over protective, but I know now that windows are a real risk and using flat cat's isn't being over protective. I think anyone living in a flat should purchase flat cats. When I do some day move house or the flat cat's get worn out, I'll definitely be buying more, because my cat's safety is worth any amount money.

If you want to use any of this email on your website to let others know how important it is to protect their cat's from the danger of open windows you're welcome to. I feel so stupid for leaving the window open. I've never forgotten to close the windows until now and this one time the worst case scenario did happen.

Thank you again,
SD. Edgbaston (Birmingham)

I thought you might like to see my cat enjoying his first "flat-cat" window last summer (attached). I'll be back for more shortly!
With renewed thanks,
MH. London
Hi Dominic, Just wanted to let you know that I received the Flat Cat a few days ago and it's fits perfectly. It's really well made, thanks!
OZ. New York (USA)
I just wanted to say a big Thank You for my Flat Cats which I have just installed.
Your customer service has been fantastic and the product matches up to it!
I am an active member on several pet related forums and will put posts up to recommend your company.
CS. Walthamstow
Hi Dominic

I just wanted to say a big thank you for the creation of Flat Cats and the fast turnaround of the order I placed. These are now on the windows and have been a roaring success. None of my cats have managed to damage or remove them and my house is now nicely aired. I no longer have to worry about them attempting daredevil stunts on the roofs.

I have also taken the liberty of reviewing your product on Dooyoo - here is the link. I hope many more cat owners try these for themselves.

http://www.dooyoo.co.uk/cat-accessories/flat-cats-window-protection/1735840/

I am sure we will be back to buy more (eventually all our windows will have them)

Take care and have a lovely Christmas and New Year
AD. Blackburn Lancashire
...and look, shes loving her flat cats. A perfect fit as always. Last night I put them on, opened the windows and let her see a big African thunderstorm. She thought life had suddenly turned into an HD action film :) shes loving the new smells and sounds, a very purry happy cat indeed!

CJ. South Africa
The screen has stood up to lots of climbing did you get those pics of my kittens (monsters) haahahahahah. The screen has been brilliant. The breeder I got the kittens from is asking about it also
LR. Manchester
I received the screens today it fits perfectly! Thank you
IY. Vancouver, Canada
Just to say thank you for the really quick turnround on our order. Really pleased with them and a great solution for our indoor cat
MC. Dunholme, Lincoln
Thank you so much for the bespoke flatcats window covers. As you can see, Faith is unable to escape and we have air! Will be needing two more of these as I stupidly thought front and back windows were the same. Oh well, was going to order them at some point anyway. Will do a couple of art sales soon so will have some readies. Shall also be doing a blog and will forward you the link for your site. Just great. Perfect fit.
NR. Coventry
I just wanted to say thanks so much for helping me to get my flat cat ordered in time before I went away. I appreciate the hurried delivery, thanks so much. The product was super and my mum's bedroom was transformed into a makeshift cattery, complete with fresh air, whilst I was away. My plan worked a treat! A great product and my mum is keeping it up as a fly screen!
LP. Gedling, Nottinghamshire
Just to say these are purrfect! Looking after daughters cat while they're on holiday. Whole problem of me loving fresh air in combined with not really wanting cat out..solved! You hardly notice them..very impressed!

TC. Taverham, Norfolk
The Flat Cats are Fantastic. Both cats took to them straightaway. The more inquisitive of our two, just had one or two gentle scratches at the first one we put up - no damage done and after all cat flaps were accepted by them. Safe cats and fresh, cooling air up and down stairs.
AP. Taunton (Somerset)
Thanks everyone for making the cat window guards. The patio door one the cat bumped into while the door was open. Very funny at the time but safe and secure around the door frame. Many thx people. I might order another very soon. Thx again
LS. Luton (Bedfordshire)
Thanks , cat loves sitting by the windows. Smiles and salutations
CL. Loughborough (Leicestershire)
Thank you for sending them! They are great and working really well!
AM. Saunderton Lee (Buckinghamshire)
Flat cats received today. They're great! Thank you
GW. Birmingham (West Midlands)
Just to let you know - it arrived ok and is working well. We may be back to order a couple of window sections in September.
AB. St Neots (Cambridgeshire)
We received our flat cats this morning, they are fantastic, it's made our lives a lot easier and it has been so nice to let the fresh air in, and not worry about the cats getting out.
DA. Haywards Heath (West Sussex)
"Monkey" admiring his Flat Cats window protection in Hackney, London

I'm just dropping you an email to let you know we have recieved our Flat Cat and are very happy with it, it fits perfectly and you can hardly see it! Monkey is loving having the door open, and hasn't tried climbing it either, which is perhaps the only thing in the flat that he hasn't! Thanks again for the great service and speedy delivery. I know you have been busy. Feel free to use this and the picture on your website reviews.

TF. Hackney, London
Received the Flat Cats today and fitted them. It was really easy and I am extremely pleased with them. The two cats and their kittens I foster for the RCPA are getting lots of fresh air and they are safe from falling out my two bedroom windows. Thank you so much for your brilliant idea.
LJ. Biggleswade, Bedfordshire
Just wanted to say our flat-cats arrived this morning. We have two cats who have been very badly treated in the past and this has left them very scared, particularly of humans (except us) so they are unable to go outside, which to us has always felt a shame. However, we now have two very happy cats, particularly our female who contentedly sits on the window seal up against the flat-cat watching the birds and butterflies and enjoying the fresh air. Two happy cats make for two happy humans!
EE. Greetwell, Humberside
You have changed our lives: Dear Dominic, all I can say is thank you for the service and the product it looks and works great. We can enjoy open windows again, the fresh air at nights is wonderful Regards and thanks
BP. Welwyn, Hertfordshire
Hi. My order arrived this morning. It's up at the window now and its fab. We have 2 indoor cats so don't have our windows open unless they are shut out of the room but this means we no longer need to do that. We know we still have to watch them but now with out worry that the could jump through an open window. Cheers
SW. Sutton Coldfield, West Midlands
Good morning Mr Parker, I just wanted to contact you to say how delighted I am with my two flat cats! They fit perfectly at my windows and my cat Charlie really isnt bothered by them. The flat is lovely and cool now, I really wonder how I coped before. Your advice about the sticking strips was perfect too as the screens really fit snug and secure. If you ever have someone asking questions about your product and if it works, would be happy to confirm its fantastic!
JL. Chippenham, Wiltshire
I don't know if you have a customer review section on your site but I'd just like to say how pleased I am with your products. I have 1 little cat and she won't try and chew them or claw them or anything like that to get out, just sits and enjoys the breeze which has been so important at this hot time of the year. Cannot thank you enough! Iincredibly impressed. Would and will recommend you to others.
LA-H. Bicester, Oxfordshire
Thanks for your quick response to my order my Burmese cats think it is great. As the lodger

I found it very easy to install
TB. Leyland Lancashsire
Flat Cats window protection at work in Aylesford, Kent

Hi, just wanted to say a huge thank you from my Bengal boys they can now happily window gaze with a cool breeze. Flat cats is truly an amazing product and we will be measuring up for some custom sizes very soon!!

DA. Aylesford (Kent)
I'm just writing to let you know that I've been Flat Cats for 6 weeks now and I found it to be a brilliant and very simple solution to trying to keep my housecats indoors during summer. Before they arrived I was a bit sceptical about whether the velcro would be strong enough to stop the cats escaping. However, it forms a very strong bond and, to be honest, the biggest worry I had initially was that the bond was so strong that I might pull the velcro off the window frame. This did happen on one or two occassions soon after I installed it but,with a little care it was fine and, in any case, the bond between the velcro and the wood has strengthened with time. One thing I would advise, though, is to make sure your cat's claws are kept relatively short as, if they are too long, they can get caught in the mesh
JJ. Falkirk
Thanks for the recent custom Flat Cats order fits perfectly, brilliant.
GJ. Swindon
Flat Cats window protection at work in Worksop, Nottinghamshire

Hello Dominic, We just wanted to say thank you for the three flat cats we ordered. They arrived last Friday well packaged. We are very pleased to report that they are working very well for our Bengal cats.

I have attached a photograph to show how pleased they are with them.

RH. Worksop (Nottinghamshire)
Flat Cats window protection at work in Sutton Coldfield

I just wanted to thank you for my order, it arrived today and is already being put to use! It fits perfectly.
Our small accident prone younger cat is enjoying a breeze safely and our older cat (terrified of the outside world) is enjoying fresh air from what she considers to be a safe distance about two foot away. Here's a couple of quick photos from my phone, my dSLR battery is on charge so I'll send you any other better ones I may snap incase you want to use them on your site.
CD. Sutton Coldfield
They arrived and are absolutely brilliant. The house is now cool and house cat Mr Shinto is safe.
SL. Epsom (Surrey)
Thanks so much for my order that I received today. Was perfect and we are so happy
SB. London
Can I just say a massive thank you for such fab service. The flat cats arrived this morning and are perfect! We can finally have our bedroom windows open at night without the risk of Lola jumping out.
EW. Southampton
Flat cats received and one is up its brilliant thank you. When I move again I will be ordering more!!!
RG. Worcester
Just to confirm our order arrived this morning and is already in place! Thank goodness as today is looking to be a hot one (and I was worried that by ordering these I had put an end to any more hot days this summer!). As an added bonus, it looks like the Flat Cats will prove good spider deterrents too – at last my son will be able to sleep with his window open (he's 18).
CB. St Giles (Cambridgeshire)
Hi Dom, I received my flat cats today,fitted in an instant and it works a treat.i have left you a message on Facebook .many thanks and good look for the future.
D&J. Oldham
Just to let you know i have received my Flat Cats this morning and half of them are up already! Thanks for your speedy service.
JE. Abersoch (Gwynebb)
Flat Cats window protection at work in Hampton Hill

Dear Dominic. Just to confirm that my Flat cats pack arrived yesterday and as you can see from attached photo - my little rescue cat Caesar took to it immediately, spending the evening on guard duty at the window! We live in a 2nd / 3rd floor apartment and I think he will never be brave enough to go out so your screens are ideal - what a good idea!
Many thanks from myself and Caesar Kind regards
RP. Hampton Hill (Middlesex)
Janis from Glynn Larne, County Antrim, Northern Ireland has just purchased some Flat Cats ahead of the arrival of two new kittens. They are just so sweet we couldnt resist posting the picture. Many thanks Janis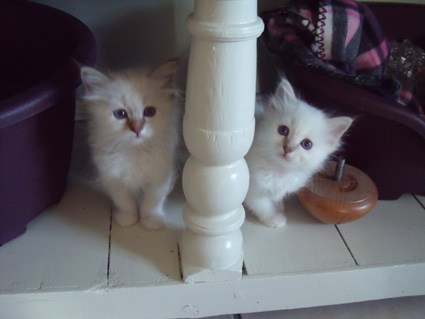 Just to say that flatcats arrived and fitted to windows. Very pleased with product. As well as cat safety it's stopping pigeons and moths coming in and plants from falling out!
Very good service and I will definitely recommend you.
RB. London
Hi, just wanted to say Thank You so much for our custom Flat-Cats! You have made them perfectly.
KC. Bingham Nottinghamshire
Received our cat flat today as promised .very pleased with it. I think my cat "mr bb" likes it as well. Many thanks
JM. Rayne (Essex)
I recieved my flat cats yesterday and they are up and in use. I just wanted to thank you for such a good shopping experience and to tell you how pleased I am with your product, they work brilliantly and fit perfectly. Many thanks and best wishes.
SN. Ipswich
Hiya...Received and fitted...great product! Cheers...
GP. Hitchin
Dear flat cat
I was very impressed with your web site.....it is clear and to the point and the videos really help to understand your product
I was impressed again when i phoned to ask about an inward opening window....you patiently talk me through the concept and measurments
And now i have recieved my order ....3 days later..,.and it is excellent..,simple and effective at a very reasonable price
If only more people ran their buisnesss as well as you guys
SR. Llandudno
Thanks Dominic, it's just what I wanted! Now waiting for another really hot day so I can have a cool bedroom with the window open and no visitations from neighbouring cats.
Will recommend to you other bungalow dwellers. Thanks again for speedy, personal service.
MS. Lancaster
(Note Madeleine above wanted to keep cats out rather than keep them in !)
Flat Cats window protection at work in Norwich on a door

Just wanted to show you that the flat cat is up and seems to be doing its job!
SC. Norwich
Many thanks for our flat cat. We are very pleased with it and cannot commend your service enough, for a custom size we were pleasantly surprised to receive it so promptly.
SB. Eastleigh, Hampshire
Flat Cats window protection at work in Cinderford

Thanks Dominic, They arrived yesterday. I received them after work and had them in place by 7pm. I cannot thank you enough for your brilliant service. I have already been " spreading the word" so hope that you manage to get more orders through my recommendation. The fit is excellent, particularly considering that my windows have handles which protrude very close to the corner of the windows. I will attach a photo to illustrate how well they fit. I am glad that I went with the 50mm fixings as it allows me to get plenty of " contact" in the corners next to the handles. I had looked, on the net, at a couple of much more expensive and more "rigid" alternatives to the Flat Cats and I am confident that neither of them would have done the job anything like as well. You have a very satisfied customer.
SC. Cinderford
Just letting you know the new set arrived this morning and they fit perfectly, we don't feel like we're trapped in a third floor greenhouse any more! Thanks so much for your kindness, you don't know how much it's appreciated. I'll certainly recommend your site to everyone.
EM. Cardiff
Sorry it's taken me a while but wanted to say thank you for the flat cat :). As luck would have it the day it arrived the weather has changed and gone rather bad so had no chance to try it for a week or so ... But I can now report that it fits and works perfectly and Phoebe loves it!
JM. London
A huge thank you. I have recived my Flat Cats today, excellent quality and so easy to fit.
Thank you for your fantastic customer care.
SW. Brough (Yorkshire)

Just wanted to let you know I received them yesterday, I am very impressed! Humphrey (kitten) has not moved from the window since I put them up and loves feeling the breeze through his whiskers :) but most importantly I am completely confident that he can't get out! Also thank you for helping with sizes. I shall definitely be buying more for rest of windows.

PC. Maidstone

Humphrey from Maidstone
Just to let you know I bought a custom flat cat from you about a month ago. I bought this for a very different reason to most of your customers, it was for keeping my cat out. My cat is a constant hunter and during the night he will jump out the top window onto our extension roof and he has been known to jump back in with a dead rat in his mouth. Needless to say I had to keep the window permanently shut. I debated as to whether your flat cat would work and I'm pleased to say that it's fantastic. He doesn't try to jump in or out the window anymore. I'm so pleased to be able to have my window open at night again. Just thought you might be interested in case you ever had any queries asking if your product was suitable for keeping card out. Thank you so much.
LK. Romford
Just to say thank u sooooooo much for my fantastic Flat Cats they fitted really easily and are purfect, excuse the pun. Teddie my 6 month old Bengal kitten is in heaven. sniffing the fresh air in safety. Custom made to my sizes they are exactly right. Thank u for great product and customer service.
KH and Teddie. Maidenhead
Just an e-mail to say thanks for shipping the Flat Cats so quickly, they fitted perfectly and make such a difference to be able to have the windows open safely in the warmer weather, Thanks again.
MB. Camberley, Surrey
Thank you, thank you, thank you.
All perfect - Mooch not impressed but I am! I've been howled at a lot today. Will be ordering more for the other windows once I get round to measuring.
SH. Bromley, Kent
Flat Cats working well in Bromley for "Mooch"
We received the flat cats today. They really are great.

I've attached a picture to show one of my cats enjoying it too.

PR. Luton

Flat Cats in use
Thanks for completing so quickly. I'm working from home today and just taken delivery of my order. Held one up to the window and the sizing is spot on. Thanks once again
DH. Sheffield
Want to say a big thank you for my Flat Cat. My cat loves it, sits in front of it and look at the world. And I don't have to worry that it might escape. I will recommend to my cat owners' friends.
MS. Hove

Its up and fitted and they are arguing already. Thank you x
CS Nelson, Caerphilly
Flat Cats causing arguments in Nelson, Caerphilly
Mr Bibbins and Wilf say thank you very much for their lovely fresh air, they're just trying to figure out how to get past that pesky netting!
The nets fit perfectly and seem to be stuck fast... I am not putting anything past Mr B and will remain nervous of leaving the windows open whilst we're asleep, for example, given how fast he flies around the flat when he's in a lively mood, but, as you can see: so far so good. My doubts lie as much with the window frames themselves falling out as they do with the Flat Cats failing to be honest, ie. I am just paranoid! ;-) Many thanks,
AB West Byfleet, Surrey
| | |
| --- | --- |
| | |
| Mr Bibbs & Wilf | Mr Bibbs |
just to let you know I purchased a Flat Cats screen a few months ago. As we had discussed my window opened inwards but with a little modification it has worked perfectly! My kitten Funkhouser loves to sit in the breeze and it even keeps flies out. Thanks very much for an excellent product. (See image below of the Flat Cats in action)
JF Sutton (Surrey)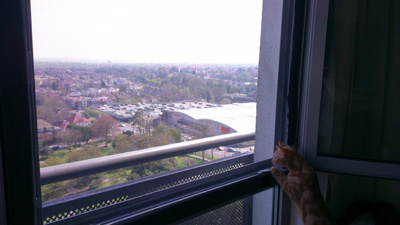 Put both flat cats up, Lola blue is investigating the bedroom one but its v nice having fresh air in the flat as have both windows open in lounge & flat and haven't been ale to do that for a while. Thanks.
KB. London N8
Morning! The screens arrived yesterday, they are fantastic!!!! Thanks very much :-)
KC. Ingatestone
Hi Dominic, Just wanted to say thank you so much for the help you gave me with this, your customer service was 100% brilliant from start to finish. The screens look fantastic, the quality is great and I couldn't be happier - and neither could the kittens! They are definitely Bengal proof! Thank you so much again. I won't hesitate to recommend Flat Cats to anyone.
ES. Ilford
Just wanted to say that the Flat cat arrives in very good time and we are really pleased with it! Our two kittens are safe and well in our flat! Thunder in particular has used it to scale the window! Gave us a fright but the Flat Cat didnt move!
When we return to the UK we will be ordering more for our UK place!
PL. Hong Kong
I just wanted to let you know, we received the flat cats today and fitted them all without a problem.
I've attached a picture of the boys enjoying them already. Two very happy cats and two very happy owners!

Thanks for all your help. I'll definitely be passing your name on. I've already been bragging about them on facebook this morning!
KC. Basildon





Once again, thank you for inventing Flat Cats and making them available for the needy. By the way, the builder who is responsible for managing this rental property saw it the other day, and was full of praise - said it was very professional, attractive, and found the solution pretty ingenious. So there you go - your karma is good.
SG. London
Just a quick note to say we received the flat cats - installed and have wonderful fresh air coming through the window without the fear of our cat falling out - they do exactly what it says on the tin! ;0)
AW. Eastleigh
Wow! What a relief your invention is!! It arrived today and it's just taken me all of 5 minutes to fit! Splat is obsessed with the sights and smells I doubt I'll get her down from the window now!
CW. Chelmsford


I have literally just received my flat cats today and put them up a few hours ago. My Maine coon loves them!! Can't get enough of the breeze in this hot weather. Such good value for money, excellent and very friendly service, I am thinking of purchasing some more for the rest of my flat, would definitely recommend this company any day x
CJ. Bracknell


Just wanted to let you know that we received the Flat Cats yesterday. They fit brilliantly, Mia is happy to sit on the window sill and watch the world go by and my partner and I no longer feel as if we are living in a sauna! Thank you so much for all you help and advice, it is very much appreciated and I will have no hesitation in recommending you.
CF. Gravesend
FlatCat arrived and its perfect down to the mm! Kitty is really loving the breeze as you can see :-) I really do love them, its such a simple clever thing that makes a real difference to my cats day, as she is home alone and pretty bored until i get back so she loves spying on the neighbours now :) Someone from the cat charity i do work for ordered day before yesterday as well, he will be super impressed!
CJ. Liverpool
they arrived today...thank u so much :o) love them!!
DG. Morcambe
Just to let you know that our Flat Cats are now all in place & working perfectly. Their quality & your service both excellent!
CT. Bridgnorth
Just a note thank you for your personal help and prompt execution of the order for my daughter's cat. Pip no longer hits his nose on the net but loves the fresh air and taste of outdoors that the panels offer.
CR. London
Thank you for the speedy delivery. Titus the cat has tried climbing up the mesh but it has defeated him so far and all is intact. Such a simple and unobtrusive solution, and we are both enjoying the fresh air!
AM. Haslemere
Thank you so much for such personal service and help. I ordered the screens on Wednesday and by Friday evening they are in place. I am appreciating the breeze tonight with open windows and have some very happy cats flat out on the window sills. Have told the head rehoming manager at Celia Hammond Animal Trust about them as there may some potential adopters/fosterers who need to secure their windows before having a cat (or more) from the charity
JD. London
Hi Dominic, The flat cats arrived yesterday, took about 5 min to sort out and fix to two of the living room windows. Very easy install. Thank You so much, I'm cooler, the cats are cooler, we are all happy. If you ever get back to Birmingham, give me a call, pop in and have a coffee and meet the tribe.
TC. Sutton Coldfield
Hello - I would just like to say thank you very much for the product - it is just wonderful to have the windows open again without my cat jumping out. Whoever designed this product - thank you.
BC. Prestatyn
Thankyou for the flat cats they are very good and fantastically easy to fit. We live in a flat with two fully grown ragamuffin cats. We were afraid to open the windows too far before, so in summer we all got a bit too hot. This is a perfect solution. Even though one of our cats keeps getting his claw stuck in the mesh, you think he would learn.
JH. Cupar
I just wanted to say thank you so much for your kind assistance in the ordering of my flat cat screens. They have arrived (very promptly! Thank you!) and i have successfully installed one in the bed room so far. I thought i would see the reception it received from my girl Tuppence first before doing the rest. Well, i really am so impressed with the product as she sniffed around a bit at first but has so far not clawed or shown a great deal of interest other than sitting by a now fully open window which makes all our lives a lot more comfortable! I am so so happy that we can do this now without worrying about her it is fantastic and i will be following on putting the others up shortly. I am not sure how long it will be until i have to replace the velcro sticky as i seem to have quite a narrow window frame but i am more than happy if that is the only small issue i have. Thank you so much again and believe me i will be passing on your good name!
NP. Basildon
Just letting you know, everything arrived safe. Thanks very much for the quick turnaround. I, my cats and my overheating computer are very grateful!
KB. Warlingham
Hi Dominic. Just wanted to send you a quick email to let you know that the widow guards came today and I'm over the moon with them! And they couldn't have come at a better time with all this heat we've been getting recently. Thanks again for my wonderful purchase
NH. Gillingham
I just wanted to say how brilliant the flat cats are! They fit perfectly and our cats are able to go and sit by the window smelling the fresh air without us freaking out that they are going to fall out! They don't seem to bothered by the mesh either and seem to know that they cant push up against it, they haven't tried to pull at it or anything. Thanks so much, these are an absolute godsend in this hot weather and given that we are 18 floors up they are an absolute must!!
EM. London
Our custom Flat Cat screens arrived on Friday afternoon. – they're very well made, a great fit, and work a treat!

Thank you so much for all your help with our slightly-out-of-the-ordinary custom request – we are very happy with the result and appreciate your very high level of customer service. Our cat likes the screen too - attached is a photo of him enjoying the fresh summer breeze (and the tantalising proximity of a plump woodpigeon :)
SM & MM. Amsterdam
All received, fitted and working like a charm. I will be ordering more!
AC. Buntingford
Thank you so much for such a great service. Your help in advising what sizes i would need was very much appreciated. The flat cats arrived super quick, were a perfect fit and were very easy to install. My very nervous, timid cat who doesnt want to go outside now enjoys sitting on the window sill feeling the breeze and watching the birds. I also get the added benefit of some fresh air in the house without being plagued by insects. The cat tried to "pat" a bird through the mess today and got her claw stuck, i have to report that the mesh stayed securely attached to the window and did not tear as she pulled herself free. So perfect all round, thank you
AJB. Farnham
Thank you for such honourable customer service. You will come highly reccomended to everyone that I know who will benefit from your fab invention
HM. Godalming
It's perfect! Thank you
CL. London
Many thanks for the prompt delivery of our two custom made Flat Cats.
I have just fitted them to our windows; they are a perfect fit and so easy to put up.
We have always adopted older special needs indoor cats who have never shown any interest in our large open windows. However our new addition Tilly - a 9 month old indoor cat has bundles of energy and curiosity so we are so grateful to have found your website offering the perfect solution. We can now fling our windows open wide again and hope for some sunshine this summer. Many many thanks for all your help.
JM. Liverpool
I have just received my Flat cats today Saturday 07th July and they fit perfectly. I will be contacting you again sometime next month to order at least another two. Once again many thanks for your quick service.
EH. Maidenhead

Just a brief note to advise you that the cover I bought from you is now fitted and my tenant is happy – job done
JR. Louth
The flat cats arrived this morning and they are now up at the windows, very easy to install. Can feel a lovely breeze coming through my lounge. The cat is still to investigate them, i,ll let you know how she gets on and i,ll write you a review for your website too. Thank you so much for a very speedy delivery.
AB. Farnham
Hi Dominic, just to let you know I have received my order and it is perfect thank you ever so much for your help!
MC. Slough
The new Flat Cat fit the windows really well and our cat Sammy has not even seem to have noticed them, but we are enjoying lovely air flow through our bedroom windows with out the worry of the cat getting out on the window sill, Thanks again for such a great product and I hope your business does well.
RO. Godderstone
Just wanted to let you know that the order arrived safely and is now installed. Beckford, my cat, is having a lovely time looking out of the open window and enjoying the breeze! Beckford had spent two years at a local cat rescue home (she had been dumped when she was six months old) and so I have been advised to keep her indoors but she loves looking out of the windows at the birds and other cats wandering past. Many thanks for producing a simple but effective system.
LH Colchester
Can I just say that I am really impressed and delighted by how friendly and jolly your messages are! I'm looking forward to receiving the product. From your emails, it seems like you take all your customers' orders seriously.
JB. Great Malvern
My dad put them up today... the cats are impressed
TW - Bath
Just wanted to let you know that the custom flat cat for my sliding door has arrived and it fits brilliantly. I am so impressed with the screens and have recommended them to my parents who will be placing an order soon. The cats don't even notice that it's there. It's great to have fresh air in our apartment again:)
DB. Southampton
I thought, as we were just buying our second set of flat- cats that I would let you know how good we find them. We have two Ragdoll cats, Barney and Callie and got the first set when they were kittens. All advice we had when getting the kittens was that Ragdolls should not go out, that they were too friendly and not savvy enough to cope with the outside world. We tried therefore initially to keep them in, but this proved impossible, and on one occasion a neighbour rang the bell to ask if we were aware they were on the roof of the porch ( this prompted our initial purchase!). We now try to let them out when we are home during the day, but when we are not they are kept in, so the flat-cats are useful in that we can have ventilation ( especially at night as they watch the moon from our bedroom windowsill) but they cannot escape! we can be sure that even though the window is open they cannot get out- and to be honest they soon learned that there was no way through they don't even think there is a route through now.
The flat-cats have been a bit clawed in the beginning, and as we are in the process of redecorating we decided to replace them with a new set, but feel the price is so reasonable a second set was not a major extravagance! The most complicated bit was finding your website again!
DM & SM. Aylesbury
Hi Dom, I just wanted to say that I genuinely couldn't be happier. Your customer service was second to none and the product is just perfect. It really has improved our home. I have recommended you to friends of mine and I'm sure they will b in touch very soon. Thanks again xxxxxx
LA. Maidstone
Many thanks for prompt delivery of Flat cats............have just put them up and am hoping for a cooler nights sleep, without my cat attempting to leap onto the roof!
SW. Tenbury Wells
The Flat Cats arrived this morning and I've just finished fitting them. Installation was easy and I have to say I'm impressed so far, both with the product and the standards of service! The cats haven't seen them yet but if they react well I will place an order for another two within the next week
JBG. Bicester
we received and installed the cat screens a few weeks ago and we are very pleased with it. Your suggestion for the large custom screen works really well. Many thanks for the excellent service.
BP. London
Thank you. Flat cats received and installed with no problems :).
SO. Burnham on Crouch
Thank you for the Flat Cats, it is so great to open the windows and feel the breeze without having to close them within minutes, just in case. Our cats were a little confused and sat on the window sills looking at me for an explanation, I did of course give them a full and thorough explanation as to why it looked like they could get out, but actually couldn't, I am sure they understood!!

I will be making another order in a few weeks for my mother, she is very impressed
CF. Romford
It's a relief to find a product that is useful and easy to order!
SO, Burnham on Sea
Just in less than 10 min put up both cat flats. A great invention on your part. My partner and I are originally from NY and have been here now 11 years. One thing that has driven us crazy is having no screens. Granted England does not have th eproblems we had when we lived in Florida. But every summer on a nice day a circle of flys are in the room. While we bought these for our kittens we are getting in a few weeks you really should also do more mention of how it keeps the bugs out. Thank you again and thanks also that you send extra adhesives that we can use in two other rooms if need be. Will keep you in mind and pass on your site to friend of ours who would enjoy opening a window in the summer :)
JO, London

I recieved my flat cat and i am very pleased with it so il be ordering some more in a couple of weeks thankyou very much for your help
JM, Fareham
Wow i received the flat cats today..ive fitted one and im well happy with it, no more frustration.. i can now air and cool my flat without worrying. many thanks for fast delivery
LW, Bardsley
Just a quick email to say thank you very much for our flat cats. I brought them for my indoor kitten (please see the picture attached of my kitten enjoying the fresh air from her new flat cats) who has asthma so its not recommended that she goes outside.
We received them last week, which was very fast considering we needed custom made ones and they are very quick and easy to fit.
It is nice to know that my kitten is getting fresh air in the safety of her own home and lucky for us as we have just got them fitted in time for the oncoming warmer weather.
Many thanks :D
GH - Leicester
Rec'd the screen promptly and it is just fab!! So totally what I was after - a really simple idea but just brilliant!!! I had a few people round at the weekend, and since we have had such lovely weather - ideal opportunity to have windows wide open! Everyone thought it was a totally fab idea, and product (especially because you cant really see it when the sun is shining - it just looks like the window is open!!) and are even thinking about getting some done for next year to keep flies out of their houses! It was just so what they wanted - from a 'flies out' perspective rather than a 'cats in' perspective which is where I was coming from
AD - Wymondham
I asked Brian to email you and let you know that flat cats arrived safely on Tuesday, and are all up and working well. Thank you so much we are so pleased with them, especially me, cause I can now have my fresh air. Mr Smudge not so pleased, because he can smell fresh air, but can't get out. He has tried, but has not been successful at it. J (chuckle) (heeee heeee). One of the residents asked us where we got them as she was really interested because they would keep all the nunus out (insects) and mosquitoes. Once again a very big thank and very much appreciated for all your help.
LW - Camberley
Don't know if you remember me, I ordered a flat cat after one of my cats was killed on the road in May having decided to keep my other 5 in at night. I just wanted to say how really pleased I am with the flat cat. At first one of the cats tried to claw at it to get out but I can honestly say it was only once or twice and probably more due to the fact that she was demonstrating her disapproval of not being allowed out at night anymore. They do come up and sit next to it when I have the window open but that is merely enjoying the fresh air. I will be putting in another order for 2 more next year when the weather warms up again and I want to keep the bedroom windows open at night for fresh air. I have referred you to a friend today so hopefully you should receive an order from her soon
KB - New Milton
I would just like to say thank you for my flat cats, my cat fell out of our 1st floor flat, luckily he was ok apart from a broken tooth, I immediately went on line, found you company and ordered some screens. The arrived within 2 days, and I now have a cool flat and safe cats.
Thank you so much for the peace of mind I now have, and thank you from my cats.
LR - London
I recieved my flat cat screen last week and it has literally brought a breath of fresh air to our apartment.What a difference it makes being able to open the window fully without worrying that my 2 cats are in any danger of jumping out the window. The screen is fantastic and I will be recommending it to everyone i know
EL - Dublin
Dominic, you are a genius, I only wish I'd found you years ago. At last I have cool clean air circulating my bungalow, and my 2 best friends Tiggy and Peep (she's shy) are asleep on the windowsills loving the breeze, and I'm happy in the knowledge that they are safe and secure. Thanks a million, if you have any queries from people in my area, send them round !! Thanks also for the lightning speed of manufacture and delivery, I was very impressed.
SJ - Bangor
Hi Dominic, Just wanted to say I got the window guards through they are brilliant thank you so much! Given me much peace of mind.
Thank you again,
KB - London
Just to say that I have received my flat cats and I am very pleased with them. I have fresh air without fear of killing my cats! Wish I had found you earlier.
VS - Redbourn
Just wanted to say 'thank you' for getting the blinds to us so quickly. They arrived on Friday and fitted perfectly - your advice about using two smaller blinds rather than a single large one was very helpful and a repeat order will undoubtedly follow in the next couple of weeks !
TB - Sandhurst
Thankyou for your help regarding my flat cat purchase. After speaking on the phone you advised a standard flat cat for me rather than a custom one, saving my pennies!
Now my boyfriend is happy as he can sleep with the bedroom window open, but the cats aren't as they cant sneak out in the night. If the window was even slightly open they would head butt it until they could escape - the problem is, they can get in the garden, but cant get back up to the window! Thanks again for a fab product
EC - Morpeth
Just found your website. Looks great. Our baby cat (15 months old and born with no eyes therefore no sight) fell out the window for the second time yesterday. He broke his back right leg in 4-5 places. He had internal bleeding. We thought he'd learnt his lesson after the 1st time . . . and we were wrong . . . or he just slipped . . . anyway, now I'm really kicking myself that I didn't search the net before to find your site. I had in mind something like you're describing exactly and was thinking along the lines of the kind of door guards that you get in places like the US to leave doors open and let air in, but at the same time keep bugs out . . . and then your website pretty much matched my plan in my head. Genius.
I shall carry out measurements tomorrow with my wife and we'll get back to you pronto – not letting him try out any more of his 9 lives . . . Bless him. The cost of leaving this too late is looking to be around the £1k mark (we're not insured) . . . You might want to use our story as a testimony on your website in the future, along with some pix from us too.
MH - Bournemouth
I have already purchased one flatcat and it was a life saver. i now have an un-stuffy apartment and a safe kitty! i am now putting them on windows through out my home. thank you!
EJS - Dublin
Just to let you know that my flat cats arrived! They are brilliant, I have only put one up and had to rush back to work, so I will go and open the window for her this afternoon, she is going to love it :) It's much stronger than I thought it would be, there is no way she is going to get through that, no matter what! I think you should send out afew small pamphlets with your orders, so that people (like me) who live in flats can put them into the mailboxes of the other tenants who have cats. I would love to tell them about it, but I don't really know them, and I never see them, I just hear the cats in the evenings. So popping a pamphlet into the mailbox would be the best way :) Thanks for getting them to me so quickly, I'll be putting the largest one up this evening, so lets see what she thinks of all this fresh Summer air...
:)
CJ - Liverpool
Just wanted to drop a line a say thank you for the flat cats. They fit perfectly, look good and are doing fantastic job so we are all enjoying the sunshine in the knowledge that Austin isn't going to endanger himself with an open window and the added bonus that no horrid bugs can get IN - is absolutely wonderful. I've told a friend at work who has been on your website too so will continue to spread the word about Flat Cats.
Many thanks
AL - Barnet
Just wanted to say many thanks for the screen. Excellent service. I can now have some fresh air with out the fear of my cat escaping
MK - Reading
My Flat Cat custom made order arrived today and I am really pleased with it – such a simple but great idea, now I can have my patio door open without worrying about the cats escaping - that is of course if it ever stops raining!
HW - Hoddesdon
Many apologies for the delay in reporting that our order of Flat Cats arrived very promptly and has proved to be invaluable in this warmer weather. Our new little rescue cat 'Daisy' has fully investigated the new arrangement and it seems to meet with her approval ! The welcome addition of a fly free house is great. Have a happy summer - with thanks
CL - Newcastle Upon Tyne
Flat-cat all up in the sunshine, thank you again. A friend saw it and very well may be ordering some also!
LB Westcliff-on-sea
Just wanted to say that I have received my flat cats (really quickly), just in the nick of time before we melted, how hot it has been! I had them up in a jiffy, and Molly and Poppy (my house cats) were immediately at the window sniffing the fresh air, chattering to the birds and generally enjoying themselves. They have been imovable from the windowsills all evening.

Although they have both being house cats from birth, with a previous owner, and I desperately want to keep them safe - you can probably see from the photos, that we live on a dual carriageway - I do sometimes feel guilty that they don't get any fresh air. So, if you can invent a way to cat proof a garden........... Anyway - looking forward to the rest of the summer, no matter how brief, with some fresh air blowing through the place. Thank you
EB - Birmingham
I am writing to say a big 'Thank You' for your help and advice. The three screens are (pardon the pun) Purrfect! They only took minutes to install and fit so well. I now have the confidence to allow the cats free roaming in the house. My daughter is especially pleased as they also keep out insects, she would have had to keep her windows closed at night in the past.

I would also like to thank you for the speed of dispatch considering I ordered made to measure sizes. I am happy to recommend your product to any pet owner or anyone requiring top quality insect screens. It was a pleasure to purchase goods of top quality materials and service.
LP - Corby

Hi Dominic, Just thought I would show you how much our kitten loves your screen!! This was the second day we put it up. This is Steve, Gemma's cat :)
DJ - Redhill
Thank you so much for making and sending my Flat Cats so quickly. They're now in place and are absolutely BRILLIANT. Ralphie looks a little peeved at not being able to try and take death-leaps anymore, but she's getting used to them and I'm absolutely delighted to have some fresh air in the flat without needing to worry that she might go splat. I'm so glad I found you!
FBH - London
Would just like to say a big thank you for all your help with this. It fitted perfectly
DJ - Redhill
hi, i have received my flat cats and i must say im very impressed they are very good and so far no escapees.The cats seem to understand that they cant get out if the screens are down.Thankyou fro all your help i have recommended you on the your cat forum.
AF - Stratford Upon Avon
Dear Dominic. The package has arrived safely. The fixing was as easy and even faster than you have mentioned on the website. The screens look really nice and keep my cat from falling out of the open windows. And also I'd like to indicate their unexpected benefit: FLAT CATS PREVENT SPIDERS FROM COMING INSIDE ! Thank you so much for your effort and lovely service
AS London
Hi there. Just wanted to let you know that the screens are up and working like a charm! Even at 5.5 kilos he can lean against them safely...thank so much!
AD London
I Just wanted to say thank you so much because they work great - and I have the worst non standard windows in the world (french strange size with inward pulling and shutters on the outside, and no sills) nightmare :D Anyways my two foster cats and I thank you and will order a some more when we move to a place with other bizzare windows - thanks again you should advertise more because i never heard of this until I went on some english forum (mind you can't even get mosquito grids in paris so this is brilliant!)
SO Paris France
I just want to thank you for your excellent service in dealing with this matter, it is very rare these days.I would certainly recommend your company and your product
JR Ferring
I am delighted to tell that the Flat Cat order arrived safely this lunch-time, and the sizing is spot-on ; I have yet to actually install them, as I have to make sure the chief "would-be escapee" is out of reach! Thank you again,
PR Bishop's Sutton
Dominic, I just wanted to say thank you - I am in my flat with the windows wide open and the cats love it! I will be ordering more for a friend soon.
LP Reading

Hello Dominic - Just to let you know the flat cat is fitted and just wonderful! They are secure and very sturdy - Thank you for your patience and time with my order, you have a fantastic product and I shall recommend you to all with flat cats! Thank you from me and my lovely cat :)
DP - London
Hi Dominic - Flat cats received yesterday! Thank you for taking on the challenge! You have done an amazing job and will be sure to recommend you to others! As you can see my cats are now safe! - (This was a special job involving inward opening balcony windows. Please note that this was created to order and please do call us if you require something similar to this. The wonderful pictures sent in by Matt & Amie can be seen here - Dominic)
M & A - Warwick
Hi - I'd just like to say thank you for a fantastic service and product, I will definitely be recommending you to all my cat friends! I will leave feedback on your website also, and let people know about your fab customer service.
KT - Sutton in Ashfield
Just to let you know that I received all the flat-cats today and they are perfect! I was so impressed by the workmanship and the ease of use, as well as the prompt delivery. Thank you so much.
BAM, Wimbledon
Thank you, my order arrived couple of days ago and we managed to fit them over the weekend. It was all very easy and straightforward. Fantastic product, so simple but so effective. Will make such a difference to the safety and wellbeing of our house cat. Would definitely order these from you again and will be recommending to others. Also, great service and great packaging
LG Leigh (Lancashire)
Many thanks for the flat cats, delivered today. Tabitha and Cleo have given it a good investigation and seem happy to sniff the air and leave it alone - bliss. Perhaps now they will see the cat flap as the only exit - many thanks
DC Wells, Somerset
I just wanted to contact you to say how brilliant Flat Cats is! I recieved my custom order much faster than anticipated and attached it to the window this weekend. It is so nice to finally be able to open the window and let fresh air into my flat. My little Ragdoll has literally spent his weekend sat on the windowsill taking in the fresh air and listening to all the new sounds going on outside - by Saturday night he was exhausted! I am definately going to place another order for my other windows. Its a simple but brilliant solution to a very common problem for cat owners everywhere and I have already been recommending you to friends.
DS Bristol

Just dropping you a line to say the screens are perfect for the windows and they have the added bonus of keeping the flies out! I've recommended them to a few people and sent your web site address to the cat rescue where I got my cat so maybe others can give them a try.
KP Lewisham
...they are perfect!!!! Im so pleased with them. They are very easy to fit and they seem to be quite strong too. So a very very happy customer!! I will probably purchase more for other rooms. I will let the members on Pet Forums know how fantastic they are and the service I received.
ZS Chatteris
Just wanted to say that we are very pleased with our Flat Cats. They were easy to fit and have put our minds at rest with our 2 new energetic, adopted cats. Many thanks!
MM Liversedge
I received my custom Flat Cats today and wanted to just let you know I think they are brilliant and have been really impressed with the service from the company.
AG Cirencester
My Flat Cats arrived this morning and I offer my grateful thanks for the swift processing of my order. I am pleased to advise that all 3 Flat Cats have now been very easily secured in place, each one taking only a couple of minutes to install. In addition, I am particularly impressed by the quality of the Flat Cats; they are a brilliant but simple concept that certainly solves the problem they were intended for. With the lovely warm weather now, it is so good to be able to open the windows upstairs knowing that my 2 cats are safe. My congratulations to you and the Flat Cats team for such an excellent product, which I will certainly recommend to anyone else who might need them
AM Romford
Just wanted to let you know that my order arrived today. We could not live without these now - it is so good to finally get some air through the flat! Also - if you get a minute - check out my blog - I have included a link to Flat Cats - what a great invention!
Barbara - Southsea
Many, many thanks for the Flat Cats...they arrived this morning and I am delighted with them! So easy to put up and at last I can just fling my windows wide open without the fear of my cat, Lucy, falling out. I think that your company is excellent; extremely accommodating and professional and great customer service. I will definitely be recommending you to my friends! I've attached a photograph of Lucy enjoying the fresh air (and birds!) from the window
CPR Bromley
Hope you are well. Just wanted to send you a quick email to express my satisfaction in the flat cats that we ordered from yourselves! We installed them in the flat on Saturday morning; each one literally took 2 minutes to do. My partner and I were very impressed with the build quality of the product, and the measurements were also spot on. The kitten doesn't seem bothered about trying to climb the mesh and loves sitting behind it looking out of the window in the breeze.
SW Beccles
Just wanted to let you know how much I am enjoying the use of my specially sized flat cat near a year on. I love watching my cat Jamie as she sniffs the air and sits in the sun, and of course I love the fresh air flowing in my flat too!
A Brighton
At long last i can relax in my flat while it airs. Such a simple solution to keeping my loved ones safe. Please feel free to pass on my mobile if someone needs to call me for a reference. I myself have been passing your website onto other people. I hope you do well out of this business.
AJ Morden
Just wanted to say received flat cats this week. Thank you very much for all you help and very prompt service.
SS Flitwick
"Just to report that the flat cats have arrived and work wonderfully. Thank you"
SI Harlesden
"At last I can stay cool in the summer - you must get this product in the shops!"
KB Cheshunt
"Fantastic! Rosie, my cat is now safe in our flat as I have window protection for her"
RS Twickenham
"Just to say a huge thank-you, what a great product"
TS Brighton
"Just wanted to say thanks for the quick response to my order and speedy delivery. I am very pleased with the item. Thanks also for the refund after I had purchased 2 without realising you did a special price. Would certainly recommend your product to other cat owners".
HB, Clacton
"Received order yesterday thanks , and the screens were perfect ! It is such a relief to be able to open windows upstairs without worrying about Smarty falling out, and he is loving sitting on the windowsill now with the fresh air and birdsong. Thanks again for your help, I have kept your contact details in my diary so I can recommend your product to anyone else who needs them".
KN - Plymouth
"Received my Flat-Cats today and all I can say is WOW!!!!! Thank you so much, they fit perfectly on all 3 and I can now open my windows especially with the nice weather. I have been extremely impressed with all contact and the speed in which ive received them, im spreading the word already for you. I wish you every success in the future and hope to see them in the shops very soon!! If you need any comments from me for your website or future publications I would be more than happy to oblige".
EM Ilkeston
"Just a note to say we love the Flat Cat – Sid sniffed the air a bit, then has totally ignored it!!"
KM - Hornchurch
"I received my order from you three days ago and installed them straight away. My cat, Simba, initially couldn't understand what had changed and tried to jump out the window, I have to tell you that I laughed quite a bit when she bounced off the netting.
I must congratulate you on a great product. My girlfriend and I can finally have our windows open. You have opened Pandora's box for us. Because your product is so good we will be returning to you within the next two months for two more Flat Cats to cover our remaining windows. I have some other commitments to take care of first, but rest assured we WILL be back. Thank you for solving a huge problem for us. Keep up the good work ! "
NB Waltham Abbey
"Just to let you know I have installed the Flat Cat and it works a treat!"
HA London
"Thank you so much for your great product, we can finally open up the windows and breath fresh air with the confidence of knowing our cats are safe. Would also like to add i thank you for your promptness and personal touch, it has been a pleasure and i will recommend this to all of my cat owning friends"
SG Barnet
"We received our Flat Cat on Tuesday but only got a chance to put it up last night and just wanted to say, its fantastic! Fits perfectly and meant our house was cool last night while we were eating etc! Simba seemed a little confused by it all but he was very good so long may it last!"
SF Camberley
"These arrived today and are excellent – in fact I've just ordered a second pair for the back bedroom windows".
AB St Albans
"As per my phone call i have recieved my Flat Cat and i just thought i would send you a quick e-mail to say how pleased i am with them. They fit really well and look good .
Once again thank you"
PM Reading
"I have received the flat cat screens today, can't wait to put them up at the windows. I would like to say a big thank you for all of your help"
MJ Reading